Late last year MOZ set out to discover the top tools, tactics, and trends of the online marketing world. With the help of their partners, over 3700 participated in this year's Industry Survey.
The infographic below presents the results of how do marketers deal with (not provided) Google Analytics keyword search data.
The loss of Google keyword data hit hard in 2013, and so MOZ asked people how they're coping, strategically speaking. It's interesting to note that, on average, respondents selected three different solutions. It's going to take a diversity of solutions to solve "unprovided" problem. Respondents who track >100 keywords were more likely to rely on rankings and less likely to rely on social signals than those who track <100 keywords.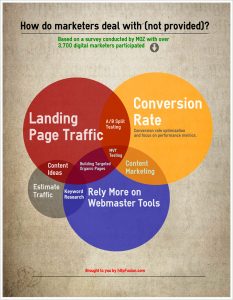 Here are the main strategies to incorporate with "not provided" results in a nutshell;
68.8% Focus on Conversion rate and performance metrics
66.2% Focus on Landing-Page traffic
57.9% Rely more on Google Webmaster tools data
40.5% Try to estimate traffic based on other data
36.7% Focus on social signals (Tweets, Likes, +1s, etc.)
The major participants to this data were;
Search Engine Land
Buffer
AimClear
SEOverflow
CopyBlogger
Econsultancy
Content Marketing Institute
TopRank Marketing
MarketingProfs
HootSuite
Entrepenuer.com
Distilled
Hubspot